Traveling to Summit County in the near future?  Here are some "fun facts" that will help you re adjust your trip to the mountains.
DID YOU KNOW??
Summit County is a 2 hour drive from the Denver International Airport in a personal car with perfect weather and no traffic.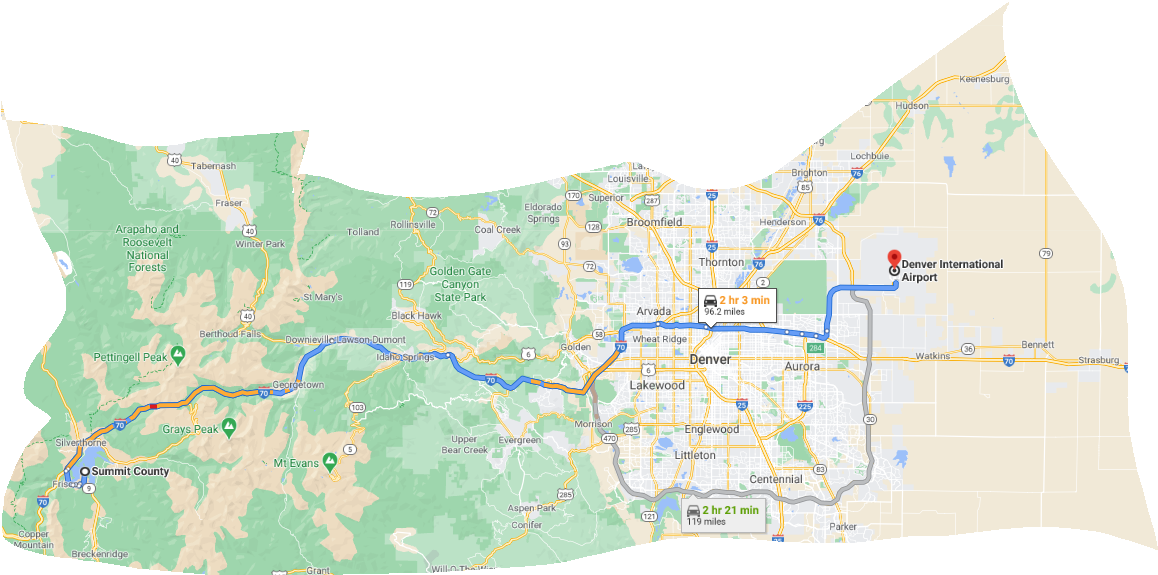 That means that in a shuttle with multiple drop offs the drive will be a bit longer than what you see in google maps.   You also are going from roughly 5,280 feet to about 9,000 feet in elevation.  Needless to say the trip to Summit County is not your typical highway drive.    Please keep this in mind when booking a shuttle, the High Rockies aren't just a stones throw away from the airport like some would imagine.
Uber and Lyft do operate in the mountains but compared to most areas they are a rarity.  DO NOT bank solely on these services.  Some will even cancel on you before the trip if they see that they are about do a 2.5 hour drive to or from DIA  (Especially if its snowing) . . .and that's only counting their driving time one way.
With current restrictions we are booking up shuttles quicker than we have ever seen so we have a lot less wiggle room to make last minute shuttle changes.  Make sure to check flight updates, especially with 3 or more passengers.  Moving 3 people together when shuttles are already filled up may not be an easy feat. . .especially with today's restrictions.  Please do not assume a last minute time change will be an automatic yes.
Summit Express DOES NOT run to the VAIL /BEAVER CREEK area on a shared shuttle.  We only make those trips on a PRIVATE shuttle basis.
Banking on a friend to take you to the airport on a pow day for a 9 am departure flight means they will have to miss a pow day and leave around 5:45 at the latest.  That's an early start.  Make sure your ride realizes this because it's a long winding road down to DIA.  ( : If you like to gamble. . save it for Black Hawk. . .not your airport ride : )
There are only a handful of companies who make a scheduled trip to the mountains.  The mountain carriers are not like a New York City taxi service where rides come often and always.  Make sure to plan ahead or else you will be paying for an over priced emergency ride up to the mountains.
Flights arriving after 10 or leaving before 9:30 am are extremely hard to book shuttles for.  These flights might be cheaper but adding a hotel into your travel plans might end up being more expensive in the long run.  Make sure to keep in mind that for a 9:30 am flight our driver is starting pick ups at 5 am.  A 7 am flight might not seem early but realistically that driver would be starting his trip around 3 am.  Please keep the actual distance to the airport in mind.
Bringing a board bag? Make sure to bring an old bag just in case we are utilizing the outdoor ski racks for your trip.
Just because you're a great driver does not necessarily mean you are a great snow driver.  Please drive only if you are comfortable in the situation at hand.  If you are worried about driving . . .please. . leave it to us!!!!
We don't like saying "no" to our guests, so please help us and plan ahead.