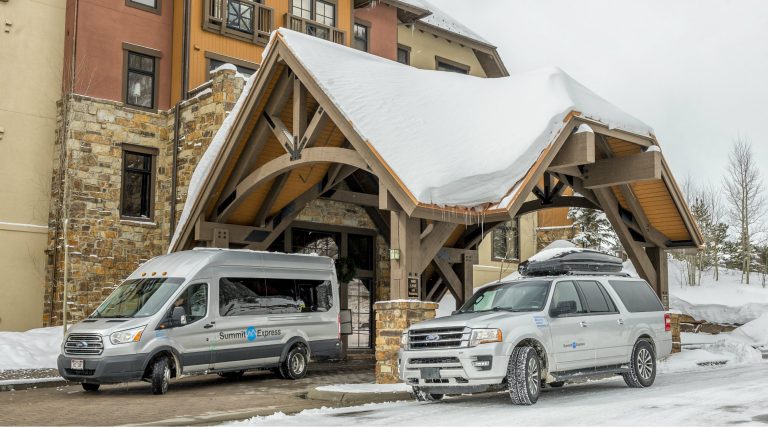 Copper Mountain is one of Colorado's favorite ski areas. Copper Mountain is a wonderful family resort, with terrain to suit all members of the family! Summers at Copper Mountain are filled with specialty events nearly every weekend from Memorial Day to Labor Day! Catch a shuttle with Summit Express any time of year from the Denver Airport to Copper Mountain.
Copper Mountain Scheduled Daily Shuttles
Our Denver / Copper Mountain Transportation
Winter, summer or spring, it's always beautiful in Copper Mountain, take advantage of our scheduled Copper Mountain shuttle service in the winter and summer.
Your summer biking / rafting / camping trip
Fall leaf changing and hunting season
Looking for a private charter for your group?
Summit Express also provides private charters for you and your party to get from Denver Airport to Copper Mountain.
Copper Mountain Airport Transportation Prices
Per Passenger Rate - from $99-$119
Copper Mountain Airport Shuttle Schedule
We are currently booking for the Winter 2022-23 season.
Winter Season: 11/3/22 - 4/18/23
Denver Airport to Copper Mountain
Denver Airport Pickup Time
2.5 hours approx travel time
9:00am (11:30pm)
11:00am (1:30pm)
1:00pm (3:30pm)
3:00pm (6:30pm)
5:00pm (7:30pm)
7:00pm (9:30pm)
9:00pm (11:30pm)
Copper Mountain to Denver Airport
Copper Mountain Pickup Time
(Approx Denver Airport arrival time)
5:30 am (8:15am)
7:30 am (10:15am)
9:30 am (12:15pm)
11:30 am (2:15pm*)
1:30 pm (4:15pm*)
3:30 pm (6:15pm*)
5:30 pm (8:15pm*)
For off hours shuttles, please call us at 970-668-6000.
Additional times available during peak dates
We will be closed on Thanksgiving Day & Christmas Day.
*Add one hour for Saturday, Sunday and Holiday travel times to Denver Airport.
Book Now
Copper Mountain Airport Transportation FAQ
What's the best way to get to Copper Mountain from Denver Airport?
With the unpredictable weather, challenging traffic and parking, riding a Summit Express shuttle is your best way of getting to your Copper Mountain from Denver Airport. We offer daily scheduled shuttles and private charters, which operate 24 hours a day, 7 days a week, year round!
Do I need a car for my vacation at Copper Mountain?
Short answer: No
Being a self-contained resort, means you don't need a car to enjoy your vacation at Copper Mountain. All of the dining, shopping, skiing and other activities are easily accessed within walking distance of your lodging at Copper Mountain.
If you'd like to explore more of Summit County during your stay at Copper Mountain, you can grab the Summit Stage, Summit County's free bus network which services all of the towns and ski resorts! Check the Summit County Bus Schedule.
How long does the trip take from Denver Airport to Copper Mountain?
Our shuttles make the journey from Denver Airport to Copper Mountain in 2 hours 30 minutes. This time includes buffer for unexpected weather and traffic, so we almost always run on time!
How do I book a Copper Mountain Airport Shuttle?
Book online with Summit Express! Our reservation system takes your flight information so that we can monitor your status and ensure that your on the quickest shuttle after your flight lands.
Where does Summit Express drop off & pick up in Copper Mountain?
Everywhere! We're famous for our door to door shuttle service, where we drop you off / pick you up right at the front door of your lodging! How's that for service?
We shuttle passengers to all lodging in Copper Mountain to include:
Fox Pine
Elk Run
e.d.g.e @ Copper
Copper Creek
Copper Junction
Legends at Copper
The Lodge at Copper
Passage Point
Snowflake
Where is the best skiing in Copper Mountain?
We're glad you asked! Due to their naturally separated terrain, Copper Mountain is a great mountain for skiers of all levels! The beginner skiing is conveniently located right out of the base area, ensuring beginners don't have to navigate around the mountain to find the easy slopes. Once you're comfortable moving away from the base area, you'll find a natural progression of terrain from intermediate to expert. If you're really well versed, make sure you checkout the new Tucker Mountain lift!
Need any more advice? Ask your driver on the trip up for their recommendations.
Advance reservations recommended