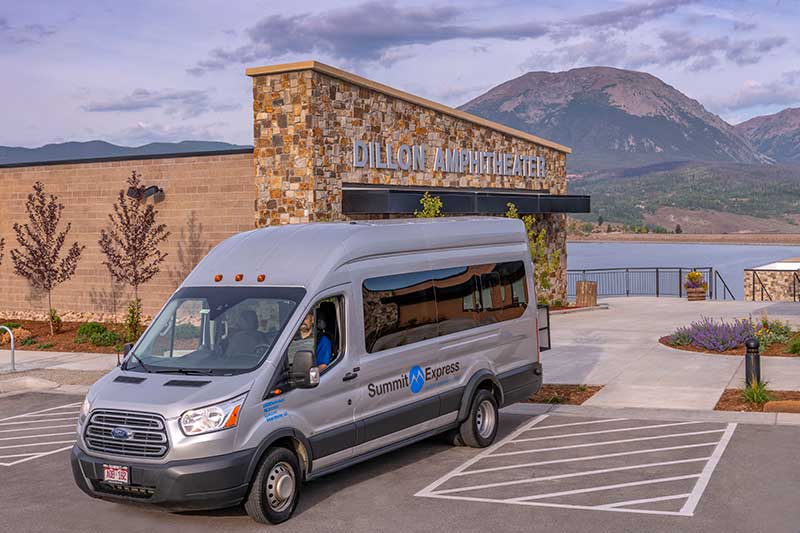 Scheduled Daily Shuttles To and From Dillon / Silverthorne
Dillon and Silverthorne are the heart of Summit County, located bordering I-70, they act as the gateway to the rest of the resorts in the Colorado high country. Traveling north of town on the Lower Blue River takes you through some of the most beautiful fishing in Colorado! Let Summit Express deliver you to your home away from home in Dillon or Silverthorne.
Summer fly fishing
Fall aspen changing season
Hunting season
Ski season and winter holidays
Looking for a private car / charter for your group?
If you need to book a private car, see our private charter information.
Silverthorne / Dillon Shuttle Prices
Per Passenger Rate - from $65
Silverthorne / Dillon Airport Shuttle Schedule
We are currently booking for the Summer 2021 season.
Summer Season: 6/17/21 – 11/3/21
Denver Airport to Silverthorne / Dillon
Denver Airport Pickup Time
2.5 hours approx travel time
9:30am** (11:30am)
11:30am** (1:30pm)
1:30pm** (3:30pm)
3:30pm** (5:30pm)
6:30pm** (8:30pm)
9:30pm** (11:30pm)
Silverthorne / Dillon to Denver Airport
Silverthorne / Dillon Pickup Time
(Approx Denver Airport arrival time)
5:45am** (8:15 am)
7:45am** (10:15 am)
9:45am** (12:15 pm)
11:45am** (2:15 pm*)
2:45pm** (5:15 pm*)
5:45pm** (8:15 pm*)
For off hours shuttles, please call us at 970-668-6000.
*Add one hour for Saturday, Sunday and Holiday travel times to Denver Airport.
**May not operate every day.
Book Now
We shuttle to all lodging locations in Dillon and Silverthorne to include:
Ptarmigan Lodge (Best Western), Dillon
Lake Dillon Condos
Point Dillon Condos
Spinnaker at Lake Dillon
Summit Yacht Club Condo
Summit Resort Group
Advance reservations recommended