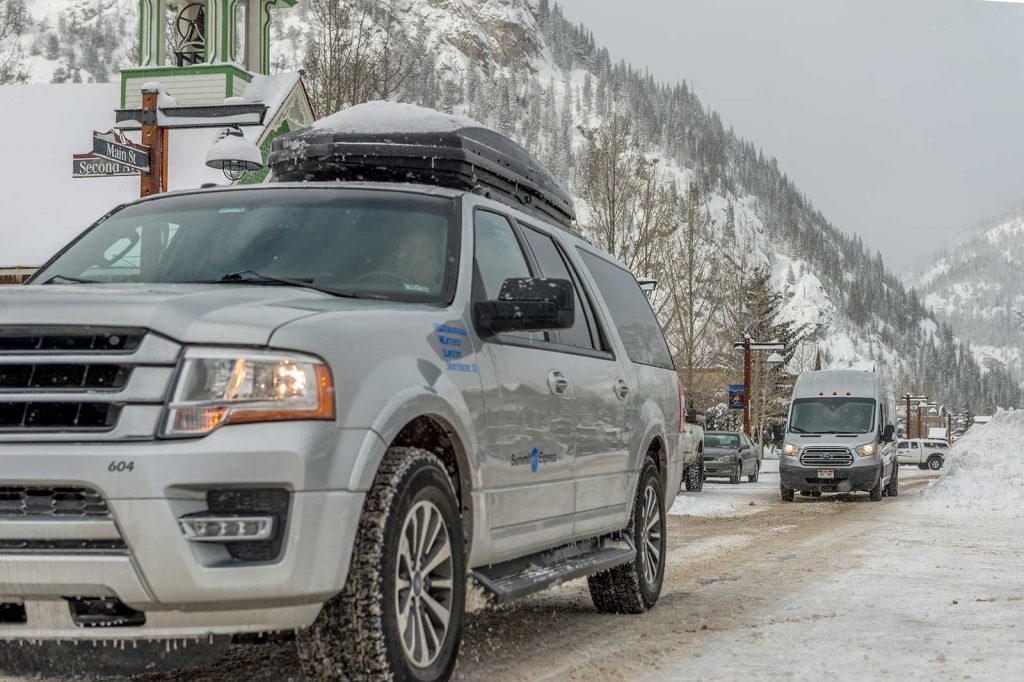 Scheduled Daily Shuttles To and From Frisco
Frisco is a quaint town in Summit County, located just minutes from Copper Mountain and Frisco. Summers in Frisco are filled with special events and fun for the whole Family!
Summer Frisco Main Street special events
Fall aspen changing season
All ski season long!
Christmas and New Years holidays
Looking for a private charter for your group?
Summit Express also offers private charters for you and your party to get from Denver Airport to Frisco.
Frisco Shuttle Prices
Per Passenger Rate - from $99-$119
Transfer Station (local residents) - from $75-$95 / passenger
Frisco Airport Shuttle Schedule
We are currently booking for the Winter 2022-23 season.
Winter Season: 11/3/22 - 4/18/23
Denver Airport to Frisco
Denver Airport Pickup Time
(Approx Frisco arrival time)
9:00am (11:30am)
10:00am (12:30pm)
11:00am (1:30pm)
12:00pm (2:30pm)
1:00pm (3:30pm)
2:00pm (4:30pm)
3:00pm (6:30pm)
5:00pm (7:30pm)
7:00pm (9:30pm)
9:00pm (11:30pm)
Frisco to Denver Airport
Frisco Pickup Time
(Approx Denver Airport arrival time)
5:45am (8:15am)
6:45am (9:15am)
7:45am (10:15am)
8:45am (11:15am)
9:45am (12:15pm)
10:45am (1:15pm)
11:45am (2:15pm*)
1:45pm (4:15pm*)
3:45pm (6:15pm*)
5:45pm (8:15pm*)
Pickup at Frisco Transfer Center is :55 after the hour
For off hours shuttles, please call us at 970-668-6000.
Additional times available during peak dates
We will be closed on Thanksgiving Day & Christmas Day.
*Add one hour for Saturday, Sunday and Holiday travel times to Denver Airport.
Book Now
Frisco Transfer Center
If you're a local or have friends in town to help arrange the last leg of your transportation the FTC is your answer. Summit Express drops off and picks up at the Frisco Transfer Center.
Walk On Passengers welcome at Frisco Transfer Center!
Need a last minute ride to Denver International Airport? Stop by the FTC at the pickup times listed above.
1010 Meadow Dr
Frisco, CO 80424
Frisco Airport Transportation FAQ
How long is the trip to Frisco, CO from Denver Airport??
The trip will take about 2 hours to Frisco from Denver Airport. This time is dependent on weather and traffic conditions. See our schedule for more details.
How much is a shuttle from Denver Airport to Frisco?
Our shuttle from Denver Airport to Frisco starts at $35 for trips to the Frisco Transfer Station. See our pricing info for more details on door to door travel and discounts.
What is there to do in Frisco, CO?
Frisco is a great location for your vacation. Staying in Frisco puts you in the heart of Summit County with convenient access to all sorts of activities.
Where do you provide Transportation to in Frisco?
We provide shuttle service to all lodging in Frisco to include:
The Frisco Lodge
Hotel Frisco
Hotel Summit County
Lodge at Riverbend Condos
New Summit Inn
Ramada Limited
Woods Inn
Advance reservations recommended