Looking to rent some gear for your vacation getaway?  Ski Butlers is the way to go!
Ski Butlers is a fantastic ski and snowboard rental company that brings you your gear wherever you're located on your vacation! Not sure if you want to ski or snowboard? Not a big deal! They'll come to you at the mountain you're falling down at and switch out your gear for you. Don't like Skiing? Try snowboarding! Not really getting into snowboarding either? Grab a hot cocoa and watch everyone else break a leg!
Delivery fees? Nope! Everything including skis, boots, poles, and their full delivery, support, and pickup services is included in your rental; apart from ~ helmets, goggles, high-performance boots, and damage coverage.
Are you part of the Military? They offer a 20% discount for active duty, reserve, or retired members of the U.S. Armed Forces! That's a pretty sweet offer! Just sit back, relax, and enjoy your vacation while Ski Butlers does all the work by picking out your gear and delivering it right to your front door.
With a 4.9 overall rating – there's no excuse not to choose Ski Butlers for your rentals! With so many reviews stating they would recommend Ski Butlers, here's one more – from us! Don't make that mistake of standing in line at a crowded ski/snowboard shop when you can just simply have it ordered, delivered, and returned for you personally through Ski Butlers.
Now that you have your gear, let's offer some transportation up the mountain!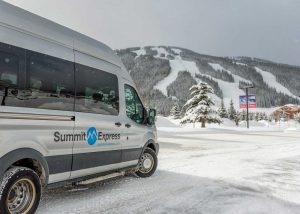 How weird would that be to recommend someone other than ourselves – am I right?
Summit Express is always the way to travel. With our all-wheel drive, snow tire shuttles, beyond the universe with exquisite customer service, and professionally trained drivers – there's no possible reason to choose any other shuttle company! Want to know something else about us that's awesome? We've been voted #1 for the BEST SHUTTLE IN SUMMIT COUNTY for the last 5 years! Whoa! Crazy right? We strive to be the best and work hard to keep our #1 spot every year for our guests! Think smart, be safe! Travel with Summit Express.