Breckenridge is a ski town best known for 2,908 acres of ride-able terrain spanning over 5 peaks. Groomers, glades, bumps and bowls- Breckenridge Ski Resort has it all. But there is way more to Breckenridge than just skiing. If you are planning a mountain get-away this winter and you don't ski, there many options from high adrenaline to super effortless activities.
Meet a Giant Troll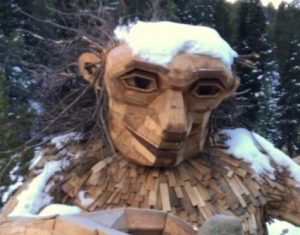 Meet Isak Heartstone, a 25-foot tall troll sculpture made from recycled materials built in 2017 by Danish recycle art activist  Thomas Dambo.  Isak Heartstone, is open year round and free to visit. He is an easy 5 minute walk from the Trollstigen Trailhead located in the south-east corner of  the Breckenridge Ice Arena, 189 Boreas Pass Rd. Parking is free but limited. For more information visit https://lnt.org/why/7-principles/plan-ahead-and-prepare/Plan your Trip. 
Don't Watch a Mystery. Solve one!
Relax your body and challenge your mind at ESCAPE ROOM BRECKENRIDGE. Your group will be locked away in a private themed room to test your problem solving skills in a race against the clock. Together your group will solve riddles, crack codes and find clues in order to escape doom. ESCAPE ROOM BRECKENRIDGE ranks the challenges from Easy for younger players to Hard for more strategic sleuths. Themes include Breckenridge Wizard School, Hollywood Secret Agent and Captain Steelhook's Treasure Hunt. Reservations are required. Group max is 8 people. For additional information or to book your escape visit https://www.escaperoombreckenridge.com/
Tubing Makes Everyone Smile!
While there is not a tubing park in Breckenridge, you can tube for FREE at the Carter Park sledding hill.  Ask your front desk or property management company if they have snow tubes or sled available for guest use, or sleds are available for purchase at the City Market and Food Kingdom grocery stores. 
If you need more adventure,  jump on the Summit Stage FREE Bus and head over to the Frisco Adventure Park.  Their multi-lane, 1200-foot tubing hill features a magic carpet to pull riders uphill. Open until 6PM. Reservation Required. https://www.townoffrisco.com/play/winter-tubing-skiing/tubing/
You don't have to ski to Après
Lifts close at 4 pm and then its time for après libations.  Enjoy cocktails, tasty Mediterranean appetizers and laughs as you watch the sun go down on BoLD's heated patio.  BoLD,  is conveniently located at Main Street Station, 505 Main Street. BoLD offers indoor and outdoor dome seating and has an amazing happy hour from 2 p.m. – 6 p.m. daily.  For more information or to make reservations visit their website  https://www.boldbreck.com
Whatever you decide to do while visiting Breckenridge,  have fun, stay safe and please wear a mask.