Are you going to be in or near Summit County area between September 20-23rd?  Perfect! Because the Breckenridge Film Festival is here and is a must see!  Dating back to 1981 this is one of the oldest running events still going on in Summit County.  Which is why Summit Express is honored to be sponsoring the event.  We will be running a shuttle all weekend so leave your car at home or simply avoid the extra walking between events!! Take Summit Express for free.  Enjoy all the parties and extracurricular activities with a safe ride through town after.
PSA: Just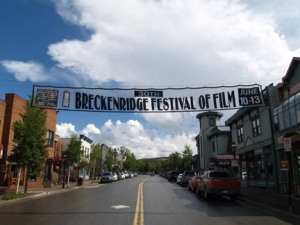 make sure to thank your driver a little extra since this is DRIVER APPRECIATION WEEK.  They will be running a FREE shuttle but as always, a little extra thank you is always appreciated.  After all these drivers do spend 'most' of the year driving in some of the most intense snow conditions in the Country all so that you don't have to 🙂 Help them enjoy some laid back Fall weather while they help cater to all your transportation needs.
September is one of the best times to be in the mountains.  Less crowded streets and fall colors make for a wonderful intermission to the film festival.  With plenty of hiking right around town you will be able to mix the outdoors with some great independent films.  There are plenty of ticket options so if you only wanted to drop in for a quick viewing you can acquire tickets on a film by film basis.
Make sure to check the website for the details for the Breckenridge Film Festival  This will help you decide which passes to buy and what films catch your eye the most.
The film fest kicks off on the 20th with a movie called Love, Gilda.  For any Saturday Night Live fans this film highlights the life of Gilda Radner, one of the shows oldest and most remembered actresses.  Looking for a more serious film?  Check out "Casualties of War" at the Speakeasy on the 21st.  Or if you are a winter enthusiasts like most of us here at Summit Express check out the film Rouge Elements and get excited for season.
Give us a call at 970-668-6000 for all your transportation needs or if you are just curious about where and when we will be running during the Film Fest.  We look forward to seeing you all out there.  Happy viewing and don't forget to check out all the Fall colors.  You may even get lucky enough to see a moose like I did this past week!
Have a great weekend!