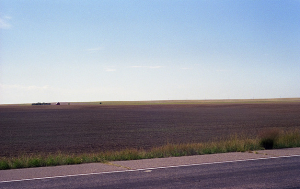 When you arrive at DIA, you need to grab your luggage and head to Island #2 outside door #511. This is where you'll stand until you're picked up by the regular shuttle service you've booked. This is true regardless of which company you've chosen to use for ground transportation to Summit County and beyond.
The view from Island #2 is not exactly what you'd expect for Colorado. I've spent a lot of time standing there waiting for CME. It's on the east side of the airport which faces away from the mountains. On a clear day you almost feel like you can see Kansas and parts of Nebraska. One time I thought I saw the Gateway Arch in St Louis. I swear, while waiting one time, I thought I saw the Golden Spike tower in North Platte, Nebraska. I think I was hallucinating from the intense boredom. How did our ancestors survive out there?
If I were blessed with music talent, I would have written at least a dozen songs about the prairie dogs, the bunny rabbits, and a few pickups and dust devils. Yes, I've spent a lot of time at Island #2. Too much time.
Island #2 is a pretty view in it's own unique way, but it's not why you came to Colorado. And it's not likely to cause you to reach for your iPhone to snap a few pics. On a cold, windy day, the view from Island #2 sucks. Seriously, it really sucks.
How To Avoid The View From Island #2
It's simple – book a Private SUV Charter. Start your vacation with the exclusive Summit Express airport charter service in one of their luxurious SUV's. As you pull away from Island #2, your fond memories of the view to the eastern plains of Colorado will quickly fade while your travel-weary butt sinks softly into a rich, clean leather interior.
Your kids will be glued to the DVD player and your spouse will be sipping complimentary bottled water while chatting up the young, very fit extreme powder skiing driver. Wait second. What!?! Oh, he's married. No worries.
The mountains now fill the windshield and you've only been off the plane 20 for minutes. All is good. Island #2 is a distant memory and your condo is just an hour away.