Mother Nature is Awake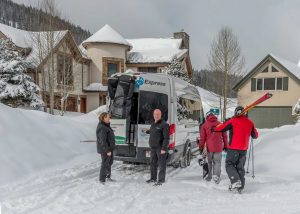 It seems like Mother Nature was napping early ski season. Keystone, Copper Mountain and Breckenridge have been up and running for months. December and January snow fall totals were lower than this powder-hound had hoped, but the combination of exceptional grooming and man made snow provided vacationers with great conditions for every skill levels. February brought back to back arctic storms across the Rocky Mountains and much of the southwest. If Mother nature was resting; she is awake now. Conditions are excellent!  Check for yourself with live on mountain cameras.
https://www.coppercolorado.com/the-mountain/webcams/mountain
https://www.keystoneresort.com/the-mountain/mountain-conditions/mountain-cams.aspx
https://www.breckenridge.com/the-mountain/mountain-conditions/mountain-cams.aspx
Dress for Success
The warmest days of February could possibly be behind us. There is no reason to suffer on the slopes if you dress properly.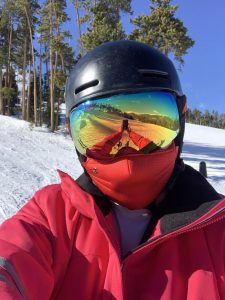 FACE MASKS are required in public places including lift lines. Disposable cloth, thin nylon and cotton masks freeze up and slip off.  The best mask I have found for skiing was designed for athletes and costs $30.  INVEST!!! You will not regret it. https://www.underarmour.com/en-us/c/accessories-facemasks-hoods-gaiters/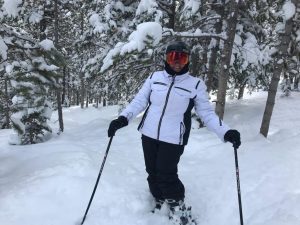 Base Layers, also known as Long Underwear, are a must. Even on cold days, your body sweats. Your base layer should be moisture wicking. Sweat is absorbed and pushed away from your skin keeping you warm. Yes to wool. No to Cotton.
Layers. Layer. Layers.  Light weight fleece or wool top over your base layer. Add a vest if you tend to be cold.
Ski Jacket.  The best jackets to keep you warm are insulated and water resistant. Jackets have a variety of features like hoods, zippers vents and tons of pockets. Jackets come in all sorts of patterns and textures. Feel free to make a fashion statement with your outerwear.
Bibs or Snow Pants. Like jackets, should be insulated, water resistant and made of a moisture wicking fabric.  Save your jeans for après.
Ski Socks are specially made to support your foot and keep your toes warm while skiing and riding. Avoid cotton socks. They do not absorb sweat. Wet feet are cold feet. Avoid wearing 2 pairs of socks. This restricts blood flow and makes your feet colder.
Gloves or Mittens. Mittens tend to be warmer than gloves.  You don't need ski- or snowboard-specific, but do choose water resistant and insulated gloves or mittens to keep your digits toasty.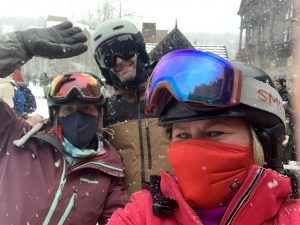 WEAR A HELMET! Not only do helmets protect your head from injury, they keep your noggin warm.
Protect your Eyes from wind, sun, snow glare, and ultra-violet rays with polarized googles. Googles can be pricey but are worth it. Photokeratitis or snow blindness, is a sunburn to the cornea. Its not permeant but it is painful. If you don't have googles, choose a sunglass with sport quality glass, plastic and polycarbonate lenses.
Stay warm, have fun!