Expectations for December: Keystone Colorado
Every time you visit the Rocky Mountains you can expect to be surrounded by take-your-breath-away beauty and the world's BEST recreational downhill terrain. Keystone is no exception.  So here is what you'll need to expect this December.
Keystone is the perfect location for an unforgettable Christmas getaway. The mountain is open for skiing and boarding. Mother nature has provided a solid base. Snow making technicians have been hard at work making and moving snow around the entire mountain. Conditions are great. Of course, we want more snow!! Reminder: When you pray for snow, pray for snow in our mountains. 
For the most updated conditions, visit Keystone's website or checkout their live mountain camera. https://www.keystoneresort.com/the-mountain/mountain-conditions/mountain-cams.aspx
I've skied Keystone several times this December. Its been AWESOME.  Here's what you can expect on the mountain.
Reservations to ski are required in advance.  I can not stress this enough. Reservations are required and can be purchased here: https://www.epicpass.com/info/reservation-details.aspx
Masks are required in all public areas including the lift line. It's non-negotiable. For the safety of your family and others, please wear your mask. There are plenty of Keystone employees to help you with questions, direct you to ski school, carry your gear and to enforce this county mandated safety measure.
Gondola is restricted to parties traveling together. What this means is it takes a little longer to get up the mountain than years past, especially if you are riding as a single. Ski-like-a-local tip: Consult your trail map while enjoying the scenic gondola ride. Look for mid-mountain lifts, like Montezuma to avoid the base area. If you do ski to the base, take the Summit Express lift back up, instead of the gondola. The lines are shorter and you will not have to take off your skis. Check out the trail map: https://www.keystoneresort.com/the-mountain/about-the-mountain/trail-map.aspx
Plan your breaks. Indoor dining is closed on the mountain. Restrooms are open. There are grab and go food options mid-mountain, but you will have to eat and enjoy that beer outside on picnic tables. Restaurants in the village are open for outdoor seating. Keystone has enhanced outdoor heaters but it's not the same as warming up for an hour over lunch at a mid-mountain lodge. Plan ahead. Eat a protein-packed breakfast before you hit the slopes. Pack a granola bar in your jacket.  For more information about dining at Keystone: https://www.keystoneresort.com/explore-the-resort/during-your-stay/dining.aspx
DRINK WATER.  Keystone's base is 9,280 feet in elevation. Humidity at high altitude is very low. As a result, you may not be able to know how much moisture has evaporated from your skin. Ski-like-a-local tip: The best way to avoid injuries is to ski terrain within your ability level. Don't forget to take breaks, especially because on-mountain lodges are not open. Remember to rest your muscles!
Keep these tips in mind when you are planning your day on the mountain and you will have a blast!!
Plus, when your ski day is over, there are still plenty of fun activities and sites to see. Bundle up and enjoy everything Summit County has to offer.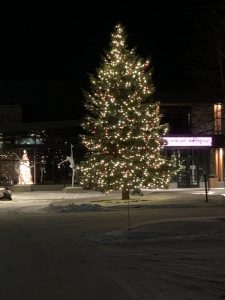 Physical Distancing is a drag, but don't let it ruin your vacation. There is still plenty to see and do. We are so happy you are coming to Colorado.  The skiing is amazing. Enjoy your holidays. Have Fun. Be Safe and remember to follow all county protocols.