The People Have Spoken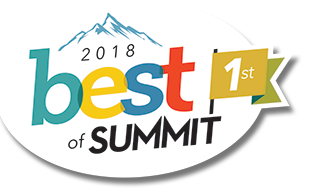 It's with great pride that we can announce Summit Express was named 2018 Best Shuttle Service by the Summit Daily.
We know there is choice in transportation. We want to thank all our loyal customers, business partners and fans for this great honor. Thank you for voting for us. Thank you for riding with us.  And thank you for supporting our mission:
Provide the BEST service to our guests through safe, reliable access to their destinations by team members who strive to create the BEST work culture in our resort communities.
Summit Express was born eight years ago when owners Jackie and Bob Roppel moved to Summit County with the goal to create a new shuttle service dedicated to providing exceptional customer experience. There have been many bumps along their journey, but they did it by staying loyal to their mission.
At Summit Express we never take our customers for granted.  We create long term relationships with our guests and our community.
We value people: employees, guests, our partners and every resident of Summit. We are active in the Chamber of Commerce.
We support local events like the Frisco BBQ, Breckenridge Film Fest, Rotary Club of Summit County, Breckenridge 4th of July parade, Silverthorne Shopping Extravaganza, COO Breakfast, Breckenridge Snow Sculptor, Dillon Marina Mutt Show and countless school bizarres and auctions.
Thank you for your trust and support. Thank you for this great honor. We look forward to the serving you this winter and for years to come.
We love you Summit County!!