Whats happening around Lake Dillon?
Lake Dillon is a place for a ton of fun. You can see boats, kayaks, bikes and SUP boards all over during the spring and summer months.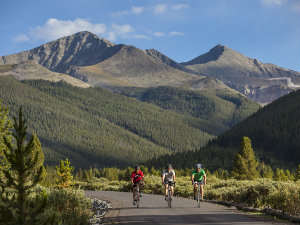 Bike Path around the Lake
Rent a bike and get onto the bike path that takes you all the way around Lake Dillon. Spend a day taking in the scenery and using your human-power to travel from Dillon to Keystone or Frisco for lunch and shopping! The rolling bike path around Lake Dillon offers an alternative method of transportation to your destination without any extended uphills!
Stand Up Paddle Board
Want something more exciting? Check out SUP rentals.
SUP standing for Stand Up Paddle board, can be experienced in may different ways. Paddle around the lake and make you way over to Sapphire Point or even try out some great yoga. Fun in the sun is in your future with SUP! These things are so much fun. You get a full body workout while doing something unique. Both are excellent choices for Lake Dillon fun.
Bike & SUP Rentals

Check out Sun & Ski for these types of rentals. Bikes are staring at $25 a day, and SUP $40 for ½ and $80 for a full day. I have a coupon code I would like to pass on you you! Coupon Code:1804: 50% off 1 Day Bike or SUP Rental, Expires 9/30/18, Cannot be combined with other offers.
Just let the agent on the phone or in-store clerk know you have the code and they will get you on your way!
Sun & Ski in Dillon
761-A W Anemone Trail
Dillon, CO 80435
970-409-3347