Welcome to Copper Mountain 2021
It's just 3 weeks into the new year and already 2021 feels extra special. Here's hoping for the safety and well being of family, friends, co-workers, community, and every visitor to Summit County.
I'm feeling optimistic this year! Several long months ago I feared there would be NO ski season at all. I could not have been more wrong.
Winter 20/21 is in full swing. And it's really fun!!
I had the pleasure to ski Copper Mountain last week. It was glorious!  Copper has over 120 open trails sprawling across 1700 acres of various terrain. From steep tree runs and bowls off the t-bar to family-friendly tubing and the snow coaster; there truly is something for everyone.
If you have not planned your winter get-away, it's not too late.
Everything you need to know before you go can be found at https://www.coppercolorado.com  The knowledgeable Copper Reservation team will help you plan your perfect Colorado vacation by calling 888-760-7561.  It's certainly not too late to plan a trip, but you will need to make a plan. Covid limitations=less availability, so make reservations for everything from Airport shuttle to Snowmobiles.
Copper Mountain is a self-contained resort community. Everything you want or need is within walking distance of Copper Center Village. Copper has an inner resort bus system to drive you where you need to be whether it's groceries, gear, or dining. You absolutely do not need a car if you are staying at Copper.
Dining options at Copper are plentiful and affordable.
The resort has added lots of physically distanced outdoor dining seats in Center Village as well as Grab & Go dining options. So grab a burger and a seat and enjoy the uphill view of snowboarders doing tricks on Woodward half pipe. Additional information on Copper Mountain dining https://www.coppercolorado.com/things-to-do/dining-apres/on-mountain-dining
Plan your runs on the Lift
Colorado resorts, for safety reasons, allow only people traveling together to ride up the gondola together. It's just a few extra minutes on your first ride up the American Flyer and American Eagle lifts.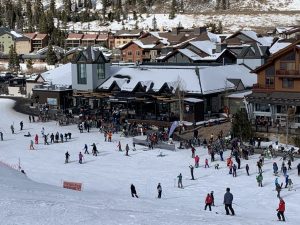 Once you get up the mountain there are multiple mid-way lifts to help you avoid the base. It's always a good idea to look at the trail map on your ride up.
You simply can't go wrong visiting Summit County this year. I hope I see you at Copper soon.