Main Street Station
Breckenridge, CO Sept 28th-30th
Ah cider! One of Fall's favorite flavors.  Celebrate the season and all it's loveliness with wild ales, crisp ciders and exquisite eats!  There's always a lot more going on than listed; but, here are the main events for the Breckenridge Strings, Ciders & Sours festival :
Friday: VIP Cider Pairing Dinner 6:30 pm -see pricing and details below.
Saturday: Grand Tasting 2-6 pm
Sunday: Brunch 11am
Breck TV  Channel 17 is where it's at.  Tune in while making breakfast; you'll catch the happenings and hot spots for the weekend.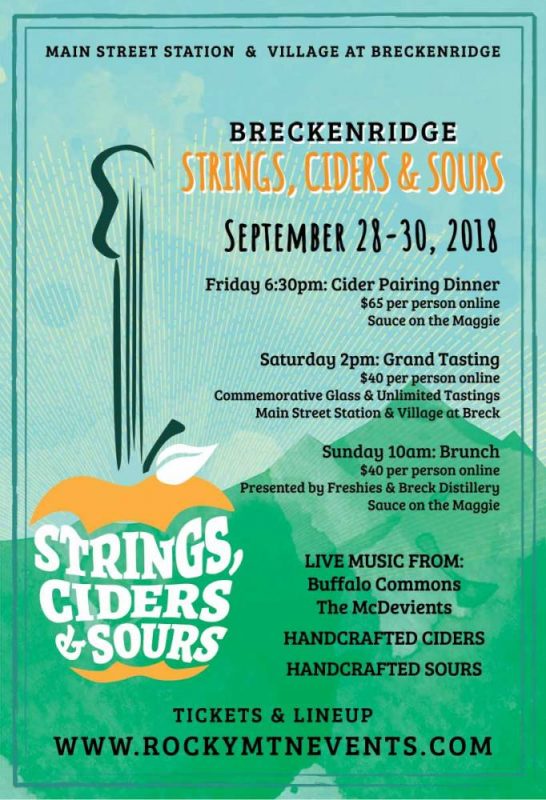 Is "rugged luxury" an oxymoron?  Lodging in the Rockies' ski resorts satisfies the beast in the burliest of brutes and appeases the prettiest princesses.  Take advantage of the best online resources for your stay in Summit county.  Here are a few of our favorites:
Book Breck  Voted Best of Summit 2017! (2018 results not yet in.)  It's like having a friend in the county, even if you're brand new to Colorado.
BreckCondowithaView.com  'Tis the season for spectacular color. Enjoy the leaves changing from the inside out.  Book a condo with an exceptional view!
Breckenridge Resort Managers  With 59 properties to choose from you'll have the pick of the litter.