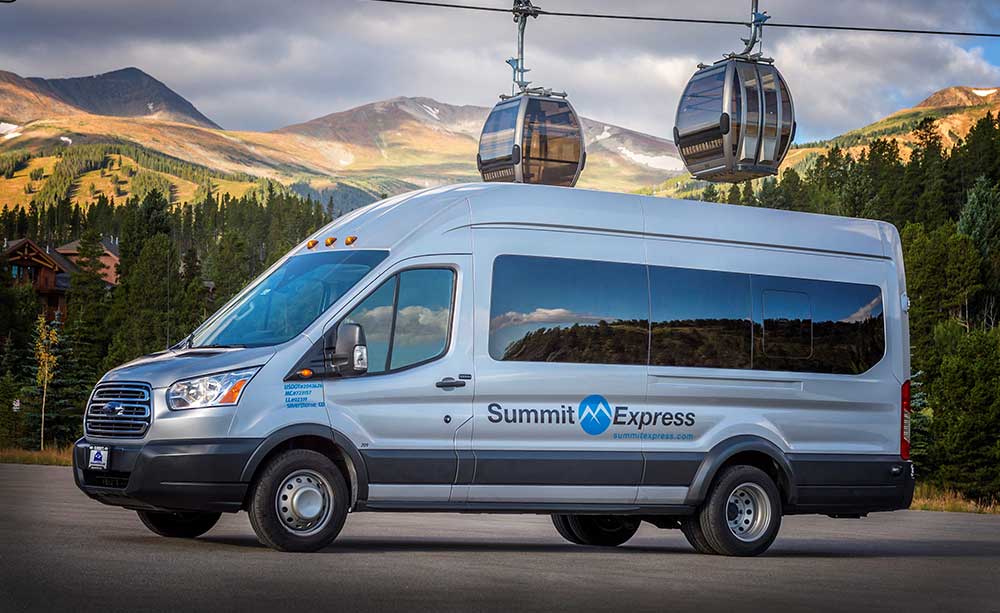 Scheduled Daily Shuttles To and From Breckenridge
Breckenridge, the quaint Victorian town that has become the most popular ski area in the United States is located just 90 miles from Denver International Airport (DIA) and only 70 miles from Eagle-Vail Airport. Summit Express offers shuttles to and from Denver International Airport for every season of the year.
Skiers and riders love our affordable luxury shuttle service and families find our charters an unbeatable value. Summit Express also provides luxury shuttle charter services to Breckenridge.
Breckenridge Shuttle Prices
1-2 Passengers - $65 / passenger
3+ Passengers Special - $55 / passenger
Transfer Station (local residents) - $49 / passenger
Breckenridge Airport Shuttle Schedule
We are currently booking Breckenridge airport shuttles for the spring season in Colorado.
Fall Season: 9/3/19 – 12/19/19
Denver Airport to Breckenridge
Denver Airport Pickup Time
2.5 hours approx travel time
9:30 am
11:30 am
1:30 pm
3:30 pm
5:30 pm
7:30 pm
9:30 pm
Breckenridge to Denver Airport
Breckenridge Pickup Time
(Approx Denver Airport arrival time)
5:15 am (8:15 am)
7:15 am (10:15 am)
9:15 am (12:15 pm)
11:15 am (2:15 pm*)
1:15 pm (4:15 pm*)
3:15 pm (6:15 pm*)
5:15 pm (8:15 pm*)
*Add one hour for Saturday, Sunday and Holiday travel times to Denver Airport.
Book Now
At Summit Express we compete on price and service!
Give Summit Express a try and you'll experience the best shuttle service in Colorado and have enough left over for a few meals out with the family. The competition is over priced and doesn't have the personal touch that our owner / operators have, book with us and you won't be sorry!
Breckenridge Transfer Center
If you're a local or have friends in town to help arrange the last leg of your transportation the BTC is your answer. Summit Express drops off and picks up at the Breckenridge Transfer Center.
Walk On Passengers welcome at Breckenridge Station!
Need a last minute ride to Denver International Airport? Stop by the Breckenridge Station at the pickup times listed above.
150 Watson Avenue
Breckenridge, CO 80424
We shuttle travelers to all lodging in Breckenridge to include:
Beaver Run
Great Divide Lodge
Valdoro Lodging
Grand Lodge At Peak 7
Village at Breckenridge
Tannhauser Condominiums
Cedars Condominiums
Marriott Mountain Village
Gold Camp Condos
Grand Timber Lodge
Pine-ridge Condos
Tyra Condos Complex
River Bend Lodge
Advance reservations recommended