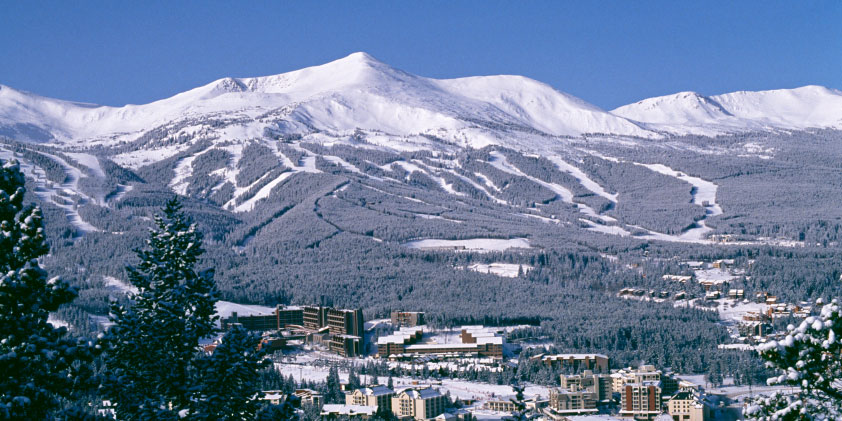 Scheduled Breckenridge Airport Transportation
We run Breckenridge airport shuttles every day of the year! In the winter we have hourly trips to and from DIA starting at 5am! If our schedule doesn't fit your needs or if you have a family or large group who would like to travel privately, book one of our private charters, which run 24/7, 365 days a year.
Breckenridge, the quaint Victorian town that has become the most popular ski area in the United States is located just 90 miles from Denver International Airport (DIA) and only 70 miles from Eagle-Vail Airport. Summit Express offers shuttles to and from Denver International Airport for every season of the year.
Skiers and riders love our affordable luxury shuttle service and families find our charters an unbeatable value.
Looking for a private car / charter for your group?
Summit Express also provides luxury shuttle charter services to Breckenridge.
Denver to Breckenridge Airport Shuttle Prices
Per Passenger Rate - from $99-$119
Transfer Station (local residents) - from $75-$95 / passenger
Breckenridge Airport Shuttle Schedule
We are currently booking Breckenridge airport shuttles for the Winter 2023-24 season in Colorado.
Winter Season: 12/1/23 - 4/2/24
Denver Airport to Breckenridge
Denver Airport Pickup Time
(Approx Breckenridge arrival time)
9:00am (11:30am)
10:00am (12:30pm)
11:00am (1:30pm)
12:00pm (2:30pm)
1:00pm (3:30pm)
2:00pm (4:30pm)
3:00pm (6:30pm)
5:00pm (7:30pm)
7:00pm (9:30pm)
9:00pm (11:30pm)
Breckenridge to Denver Airport
Breckenridge Pickup Time
(Approx Denver Airport arrival time)
5:15am (8:15am)
6:15am (9:15am)
7:15am (10:15am)
8:15am (12:15am)
9:15am (12:15pm)
10:15am (1:15pm)
11:15am (2:15pm*)
1:15pm (4:15pm*)
3:15pm (6:15pm*)
5:15pm (8:15pm*)
Pickup at Breckenridge Transit Center is :25 after the hour
For off hours shuttles, please call us at 970-668-6000.
Additional times available during peak dates
We will be closed on Thanksgiving Day & Christmas Day.
*Add one hour for Saturday, Sunday and Holiday travel times to Denver Airport.
Book Now
Breckenridge Airport Transportation FAQ
What's the best way to get to Breckenridge from Denver Airport?
With the unpredictable weather, challenging traffic and parking, riding a Summit Express shuttle is your best way of getting to your Breckenridge from Denver Airport. We offer daily scheduled shuttles and private charters, which operate 24 hours a day, 7 days a week, year round!
Do I need a car in Breckenridge?
In Breckenridge, we're very proud of the fact that you don't need a car to fully enjoy your stay with us. Most dining, shopping and skiing is within an easy walking distance in town, and for anything that isn't we have a great (free) bus network that operates on regular routes within Breckenridge and all over Summit County!
How much is a shuttle from Denver to Breckenridge?
Our rates start at $54 / person for the Frisco or Breckenridge Transfer Centers.
Rates for Door to Door service from the Airport directly to your lodging / home and back again start at $69.
How long with the trip from Denver Airport to Breckenridge take?
Our scheduled shuttles typically make the journey from Denver to Breckenridge in 2 hours and 30 minutes. We have a buffer built in for unexpected weather or traffic conditions, so Summit Express shuttles almost always run on time.
How do I book a Breckenridge Airport Shuttle?
Book online with Summit Express! Our reservation system takes your flight information so that we can monitor your status and ensure that your on the quickest shuttle after your flight lands.
Where does Summit Express drop off & pick up in Breckenridge?
Everywhere! We're famous for our door to door shuttle service, where we drop you off / pick you up right at the front door of your lodging! How's that for service?
We shuttle travelers to all lodging in Breckenridge to include:
Beaver Run
Great Divide Lodge
Valdoro Lodging
Grand Lodge At Peak 7
Village at Breckenridge
Tannhauser Condominiums
Cedars Condominiums
Marriott Mountain Village
Gold Camp Condos
Grand Timber Lodge
Pine-ridge Condos
Tyra Condos Complex
River Bend Lodge
Can you Uber from Denver Airport to Breckenridge?
Well, technically yes, but… You and your family and all of your ski gear aren't going to fit in the typical Uber vehicle. Summit Express transportation was built for this, our drivers are highly trained to handle the winter driving conditions on I-70 and your trip should be safe!
Where is the best skiing in Breckenridge?
We were hoping you would ask that! There's nothing better than sharing life's pleasures with our guests. Depending on your skill level, there's something for everyone at Breckenridge. We usually warm up with the groomers on Peak 9 (just a short walk to the chair lift from your morning coffee in town). Once we get our feet under us, if the sun's out we'll head towards the alpine on Peaks 7 and 8. If it's cloudy or snowing, Peak 10 is the spot. After a quick lunch and espresso, we'll typically wind down the day on the southern slopes on Peak 8 that have warmed up for the afternoon.
Need any more advice? Ask your driver on the trip up for their recommendations.
At Summit Express we compete on price and service!
Give Summit Express a try and you'll experience the best shuttle service in Colorado and have enough left over for a few meals out with the family. The competition is over priced and doesn't have the personal touch that our owner / operators have, book with us and you won't be sorry!
Breckenridge Transfer Center
If you're a local or have friends in town to help arrange the last leg of your transportation the BTC is your answer. Summit Express drops off and picks up at the Breckenridge Transfer Center.
Walk On Passengers welcome at Breckenridge Station!
Need a last minute ride to Denver International Airport? Stop by the Breckenridge Station at the pickup times listed above.
150 Watson Avenue
Breckenridge, CO 80424
Advance reservations recommended