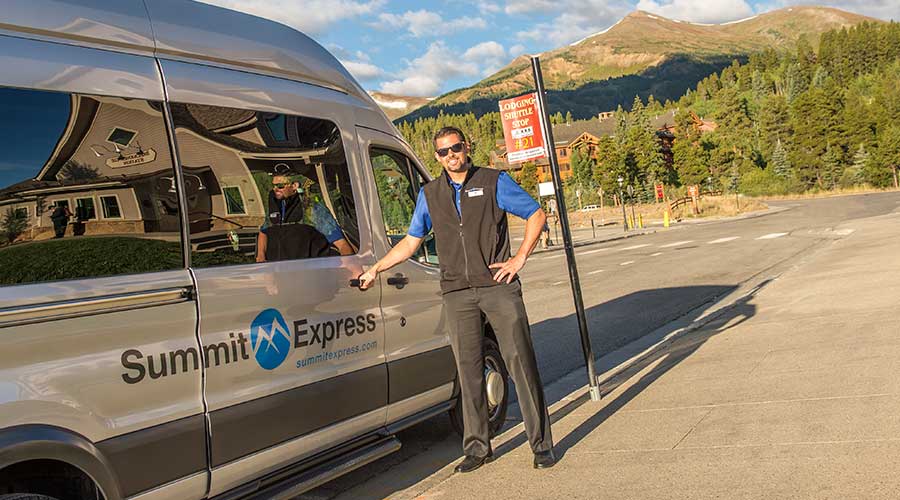 As a Summit Express Guest Service Driver, the focus is on the safe transfer of our guests in and around Colorado with primary trips to and from Denver International Airport.  Summit Express utilizes 10 to 14 passenger Ford Transits; 5 passenger SUVs.
Summit Express does not require a CDL.
Full-time / part-time / flexible schedule
Excellent Compensation Potential Includes:
(can vary based on service provided)
$125-$130 per trip + tips (typically $200-$300 / day)
Cash and Credit Card Gratuities
$16 hourly services
$1 3/hour additional long trip pay
Full Time Drivers: $500 signing bonus!
Benefits and Perks:
Full Time Drivers: $400 Health & Wellness Benefit OR a Free Epic Ski Pass or Copper Mountain Pass!

Part Time Drivers: $200 towards anything that makes you healthy and well!

Complimentary Summit Express Shared Shuttles
Discounted Friends and Family Rides
Local Partners with Summit Express offer discounts to our drivers, anything from restaurant discounts to oil change discounts to dry cleaning discounts, and many more.
Driver Duties and Responsibilities: (including but not limited to)
Arrive on time for your trip in your clean, company provided uniform; complete pre-trip vehicle inspections; understand your manifests and map your pickups and drop offs; load and unload your guests and their luggage; complete post-trip vehicle inspections; clean and fuel your vehicle.
Driver is responsible for maintaining the required driver logs
Communicate effectively with Dispatchers, Transfer Drivers or Airport Greeters regarding guest concerns, road conditions, vehicle problems, etc., it takes a team.
Requirements to be a Summit Express Driver:
Must have a valid driver's license with a clean Motor Vehicle Record over the last 5 years.
Must be at least 23 years of age.
Able to lift 75 pounds
Be able to pass a DOT (Department of Transportation) Physical Exam and provide Summit Express with a copy of your medical card.
We thank you for your interest in Summit Express!  If you would like to join our team, apply now!
Summit Express Mission Statement
Provide the BEST service to our guests through safe, reliable access to their destinations by team members who strive to create the BEST work culture in our resort communities.