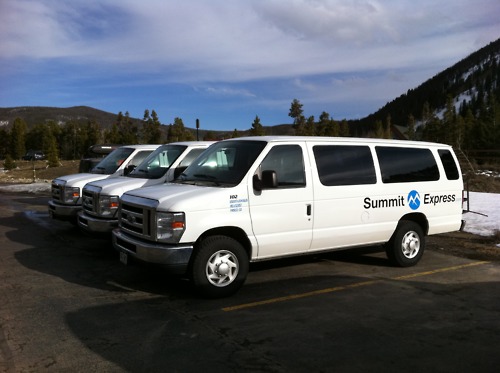 This winter more than 12 million people are expected to take Colorado's major highways up to more than 22 world renowned ski and ride resorts. However, anyone who's ever driven to the resorts during ski season knows that it can be a headache and a hassle, the highways get congested and traffic can be stopped for hours, and in many instances getting to and from the resorts puts quite the damper on the entire ski vacation experience. However, for visitors from out of town, there are many options that will save them from stress and anxiety in addition to saving lots of money.
The Summit Express is an excellent option. The shuttle picks passengers up from Denver International Airport and shuttles them to Copper Mountain, Breckenridge Airport, Keystone, Frisco, Dillon and Silverthorne all season long. And of course they have shuttles back to the airport with frequent departure times daily. Skiers and riders who take the Summit Express will be able to kick back, relax and enjoy the stunning panoramic views as professional and seasoned drivers whisk them to some of the nation's best mountains.
Another more luxurious option available to skiers and riders is to hire the Summit Express First Service. It's a private chartered luxury SUV that is available to all locations in Colorado including Vail, Beaver Creek, Steamboat and Aspen. The spacious and comfortable SUVs have a DVD player and onboard movies to keep guests entertained throughout the ride. The car will also happily make any and all necessary stops along the way before reaching guest's final destination, so it's exceedingly convenient to pick up groceries, last minute items or rentals before heading to the mountain.
This winter alleviate the strain of planning and executing the perfect ski vacation and leave the driving to the professionals at Summit Express. Ski Coupons has got some great deals on their already low prices which will save skiers and riders even more money this season.
So kick back, relax, listen to some nice music and take in the snowy scenery as we climb high into the rockies. Let us do the driving. It's only one click.