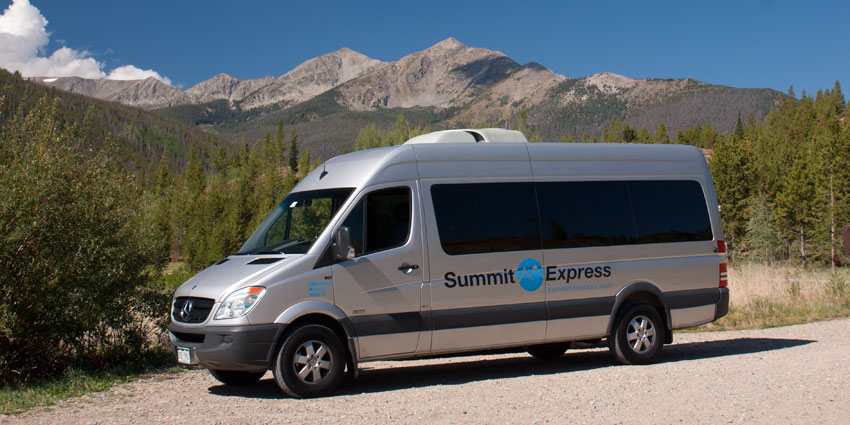 Scheduled Daily Shuttles To and From Frisco
Frisco is a quaint town in Summit County, located just minutes from Copper Mountain and Frisco. Summers in Frisco are filled with special events and fun for the whole Family! During spring and fall, schedule a private charter for you and your party to get from Denver Airport to Frisco.
All ski season long!
Christmas and New Years holidays
Summer Frisco Main Street special events
Frisco Shuttle Prices
Shuttle Service To and from Frisco and DIA
Summer
6/19/14 – 9/2/14
One Way to your door
$64
Round Trip to your door
$128
One Way to Frisco Transfer Station (local residents)
$49
Book Now
Frisco Airport Shuttle Schedule
We are currently booking for the 2014 summer season.
Denver Airport to Frisco
Summer Season Schedule
7/1/14 - 9/2/14
7 Days a week
9:30 am
11:30am
1:30 pm
3:30 pm
5:30 pm
7:30 pm
9:30 pm
Off hours, please call us.
Book Now
Frisco to Denver Airport
Please allow four hours between your pickup in Frisco and departure time from Denver Airport
Summer Schedule
7/1/14 - 9/2/14
Frisco Pickup Time
Denver Airport Arrival Time
Approximate
5:45 am
8:00 am
7:45 am
10:00 am
9:45 am
12:00 pm
11:45 am
2:00 pm
1:45 pm
4:00 pm
3:45 pm
6:00 pm
5:45 pm
8:00 pm
Book Now
Off hours, please call us.
We provide shuttle service to all lodging in Frisco:
The Frisco Lodge
Hotel Frisco
Hotel Summit County
Lodge at Riverbend Condos
New Summit Inn
Ramada Limited
Woods Inn
Advance reservations required
1-855-MTN-VANS
970-668-6000